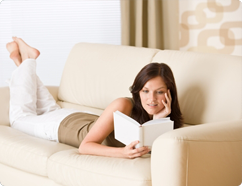 We all love our upholstered furniture. And whenever we see a stain on it, we rush to fetch our trusted upholstery cleaner which will aid us to remove all stains without exceptions – or at least that's what the bottle of the detergent says.
What if you can't see any stains on your upholstery? Would this mean the upholstery is really clean? It's not necessarily so. Actually, the fabric of your upholstered furniture can be a real health hazard. The fabric of your couch houses your dead skin, your pet's dander, your wife's hair, and, of course, numerous kinds of bacteria and germs which can affect your health.
Check our sofa cleaning prices
But how does one fight the things they can't see? Very easily – you should just rely on our professional cleaning services. We are based in London and we offer professional sofa cleaning services.
The sofa isn't something we buy on a regular basis; when we buy upholstery, we invest our money into something we want to use for as long as possible.
But all the dirt and bacteria accumulated on your upholstery won't keep it in sound health for long – if you don't have your sofa professionally cleaned at least twice a year, very soon you'll notice the damages on the sofa caused by dirt and grime; so, if you want to extend your sofa's lifespan, protect your money and, of course, protect your health, you'll have to rely on professional assistance for your sofa.
Don't rely on false promises, rely on experience
We offer you to choose us and not others in London, because we are experienced and professional. Our cleaning methods are renown and are proven to not only clean your upholstery, but also to help increase it's lifespan, too.
Pre-clean treatment of stains
Complete deodorization of your sofa
Deep steam cleaning – hot water extraction method
Use of environmentally friendly cleaning products only
We deliver our upholstery cleaning services by means of a professional deep steam cleaning machine. Our deep steam cleaner uses very hot water released under high pressure which enables it to reach deep into the base of the sofa, dissolve all dirt and vacuum it, leaving your sofa 100 percent sanitized.
You can book our professional upholstery and sofa cleaning services any day of the week and also on bank holidays, too. We don't charge any extras if we're booked on a holiday and our equipment is included in the price for our service. We guarantee NO hidden charges.
FAQ
Do you offer Scotchguard protection?

Yes, we offer it. To get it, you need to ask our technician to apply our professional SCOTCHGUARD Protector – it'll make the fabric of your upholstery completely stain resistant.

How long will it take to dry completely?

It takes about 2 to 4 hours for a sofa to dry completely, depending on it's size. Our technician will extract up to 95 percent moisture from the fabric as soon as they're done cleaning your sofa, thanks to our professional moisture extraction system.