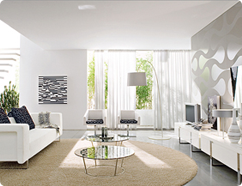 When the time comes for you to move out from your rented property, do you know what you must do? Clean. As anywhere on Earth, tenants in England are obliged to do a thorough cleaning of their rented property before they move our – a process commonly known as end of tenancy cleaning.
There are a few rules of end of tenancy cleaning but some landlords have additional have additional demands concerning the end of tenancy cleaning. As you can imagine, this makes the whole process very unclear to most people and ultimately, many tenants resolve to leaving their rented home without receiving their deposit money back – and as we all know, tenants are supposed to receive a full refund on their deposit money if they clean their rented place.
Prices for our end of tenancy cleaning in London
Of course, you are free to try to clean your rented place by yourself, but why should you do that when you can't be sure if what you would manage to do please your landlord enough so that they give you a refund on your deposit?
We offer you to rely on our professional assistance instead. We offer professional end of tenancy cleaning services in London. Our professional cleaning company is well-known and we can assist landlords and tenants, and even real estate agents. Rely on us to make your rented/rental property appealing and ready to house new tenants.
Meeting your demands at all costs
Our cleaning company is notorious for it's unique cleaning methods – we are the only ones in London who use only environmentally friendly cleaning products to deliver their services. We are also using only energy-saving cleaning machines and the best part is that all these stuff are included in the price for our services. This means that you won't be charged any extra surcharges if you book us.
Use of professional equipment
Cleaning with utmost attention to every detail
Total elimination of all stains, regardless of their origin
Complete sanitation of bathrooms and kitchen appliances
Affordable and available professional end of tenancy cleaning service, only in London
We take great pride in our technicians. Our team is made of people with experience in the field of professional end of tenancy cleaning. We constantly upgrade our team's performance by training them on a regular basis and testing their abilities, too.
On top of all, we've run thorough background checks on each of our professional technicians prior to employing them because we want to ensure our clients that our staff really is professional. Choose our end of tenancy cleaning services, you won't regret it.
FAQ
1. Are there any chemicals in your detergents?
–No, our cleansers are completely chemical-free.

2. Is carpet cleaning included in your end of tenancy cleaning service?

–No, but if you book our end of tenancy + carpet cleaning services, you get a fair discount.

3. Does your company provide any guarantee for it's end of tenancy cleaning service?

–Yes, our company offers a 48-hour guarantee of service – if we do anything wrong, we'll return and make it right without charging you anything.