Our company specialises in sofa cleaning in London. We are a small agency that consists of devoted and well-trained cleaners. Our mission is achieving 100% results in cleaning. We are so successful because we know what a client wants and how to fulfil their requests without compromising quality.
Book your cleaning service & SAVE UP TO 10%
Sofa Cleaning Price
Sofa – Two Seat
from £30

£27

Book now
Upholstered Armchair
from £18

£16

Book now
Three Seater Sofa
from £44

£36

Book now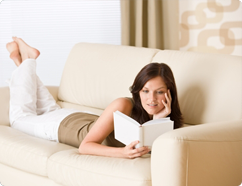 If your upholstered furniture is in need of a professional clean, there is no one better to take care of the matter. We have the right skills, techniques and cleaning equipment to get any sofa dust- and germ-free in no time. Our methods are impeccable and with a long-term effect.
But how can we be so sure that your sofa is getting the service it needs?
Whenever somebody gets to work for us, his or her skills are thoroughly tested. This way we know that this person is good enough to do the job. We look at their experience, credibility and attitude towards the job. Moreover, once we employ somebody, we provide them with further training on our cleaning system and methods. We teach them how to use the cleaning supplies in a safe manner. Our cleaning machines are very powerful but if used properly. Therefore, if a worker cannot operate with such machines, the cleaning process is less efficient. And we don't like that.
We are here to assist your needs making your sofa as new as it was in the beginning. You will see it for yourself once our technicians are gone that your belongings smell better, look better and are cosier than ever.
Thanks to our amazing steam cleaning machines we can lift dirt from any piece of furniture. The best part about this way of cleaning is that it is void of chemicals, which are harmful to you. Instead it uses hot water which manages to kill a great part of the bacteria, if not all, that reside your furniture.
As you can see we are totally prepared to meet your needs. So if you like, you can join us today. We will be more than pleased to serve your house as well.